Chicken Paprika (Csirke Paprikash)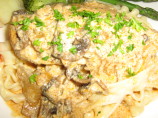 Photo by I'mPat
Prep Time: 10 mins
Total Time: 1 hr 10 mins
Servings: 4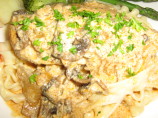 Photo by I'mPat
About This Recipe
"This is a great recipe! I recommend cutting up the chicken before mixing with the butter/basil tossed egg noodles. It makes it much easier to eat, and much more enjoyable, as the sauce gets to every inch of the noodles and chicken! The sauce is extra tasty, so make some good bread to sop up all the sauce! Add a wonderful salad and the meal is complete. This recipe is adapted from a recipe from the Masonic Grand Lodge of Fargo, North Dakota."
Ingredients
1 (8 ounce) packages fresh mushrooms, sliced

1 medium onion, sliced

1 teaspoon garlic, minced

5 tablespoons margarine, divided

2 tablespoons paprika

1 tablespoon vinegar

1/3 cup all-purpose flour

1/4 teaspoon salt

1/4 teaspoon celery salt

1/4 teaspoon fresh ground pepper

3 -4 boneless skinless chicken breast halves

1 cup water

1 teaspoon chicken bouillon granule

1 (16 ounce) cartons sour cream

1 (8 ounce) packages medium egg noodles

chopped fresh parsley or fresh cilantro, to taste
Directions
Melt 1 tbsp margarine in a large skillet. Cook mushrooms over medium heat until medium tender. Drain moisture from skillet. Melt another 3 tbsp margarine in the skillet, adding sliced onions and garlic. Cook until onions are tender. Stir in the vinegar and paprika.

Meanwhile, mix flour and next 3 ingredients. Dredge the chicken breasts through the flour mixture. Place in the skillet with the vegetables, pushing them up against the side so the chicken will brown. Cook 3 to 4 minutes on each side, or until golden brown. Add water and chicken bouillon granules. Heat to a boil, then reduce to low and cover for 1 hour.

Prepare the egg noodles according to the directions. Add 2 tbsp margarine and parsley/cilantro to taste.

While the noodles are finishing up, remove the chicken from the heat. Add the sour cream. Add salt and pepper as needed.

I prefer to cut my chicken up into bite size pieces and mix with the noodles. Another option is to serve the chicken on top of the noodles, topped with the sauce. It is just easier for kids and the "knife-challenged" to eat it if it is already cut up!