Shrimp and Sausage Jambalaya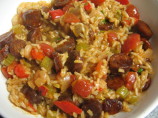 Photo by Vino Girl
Prep Time: 20 mins
Total Time: 1 hr 20 mins
Servings: 6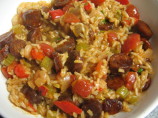 Photo by Vino Girl
About This Recipe
"This is a recipe I developed by combining a few together, and it is one of my husband's favorite things that I make. If I am eating this, I cook the sausage on the side. At the end, I pull out a portion of jambalaya for myself and add the sausage to the rest for everyone else. Keep an eye on it after you add the rice. The jambalaya recipes I've used in the past don't add water, but I usually have to add some so the rice has enough liquid to absorb."
Ingredients
1 tablespoon olive oil

1 1/2 cups chopped onions

1/2 cup chopped green bell pepper

1/2 cup chopped celery

1/2 lb medium shrimp, peeled and deveined

4 bay leaves

1/2 lb smoked sausage, sliced

1 (14 1/2 ounce) cans chopped tomatoes

1 tablespoon chopped garlic

1 teaspoon salt

1/2 teaspoon cayenne

1/4 teaspoon black pepper

1/4 teaspoon dried thyme

1 cup long-grain white rice

1/4 cup barbecue sauce

1/4 cup chopped green onion
Directions
Heat the oil in a large skillet over medium heat.

Add onion, bell pepper and celery and saute for 7 to 8 minutes.

Add the shrimp and bay leaves and cook until the shrimp turn pink, about 2 minutes.

Add the sausage and cook for 2 to 3 minutes.

Add tomatoes (with juice), garlic, salt, cayenne, pepper and thyme. Cook for 10 minutes, stirring often.

Add the rice and stir to mix.

Cover and cook over medium-low heat for 30 minutes, or until the rice is done and liquid is absorbed.

Stir in barbecue sauce.

Remove from heat and let stand for 5 minutes.

Remove the bay leaves.

Stir in green onions.