Cozy Quinoa Casserole 7points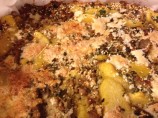 Photo by DeidreJane
Prep Time: 20 mins
Total Time: 50 mins
Servings: 6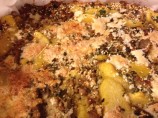 Photo by DeidreJane
About This Recipe
"This is from Women's Health Magazine (Jan/Feb 2007 issue). The title of the article this was included in was, "One-Pot Wonders." This sounds delish, can be modified to your liking, and can be made vegetarian by using a veggie broth/stock in place of the chicken and veggie-meat in place of the turkey, which is what I'll be doing. Healthy, filling, and yummy all around! P.S. the recipe editor thing is being weird and it keeps erasing the amount of garlic cloves...the amount is 2 cloves of garlic., not zero like the recipe ingredients indicate."
Ingredients
1 large onion, peeled and diced

1 tablespoon olive oil

5 -6 cremini mushrooms or 5 -6 white mushrooms, thinly sliced

2 garlic cloves, peeled and minced

1/2 cup acorn squash, sliced

1 lb ground turkey or 1 lb veggie crumbles

1 1/2 teaspoons poultry seasoning or 1 1/2 teaspoons dried sage

1 teaspoon sea salt

1/4 teaspoon ground black pepper

1 1/2 cups low sodium chicken broth

1 cup quinoa, rinsed

1/4 cup fresh parsley, minced

6 ounces reduced-fat monterey jack cheese, shredded
Directions
Preheat oven to 350°F.

In a skillet, sauté onion in olive oil on medium-high heat for 2 to 3 minutes or until translucent.

Add mushrooms, squash, and garlic and cook for 2 to 3 minutes.

Add turkey (or veggie meat substitute), breaking into small pieces as it browns, about 3 to 4 minutes.

Add poultry seasoning, salt, pepper, stock, and quinoa and bring to a boil. Reduce heat , cover, and simmer for 10 minutes.

Transfer ingredients from pan into a 9-by-9 casserole dish or baking pan.

Mix in parsley and 3 oz. cheese.

Sprinkle remaining 3 oz. cheese on top of casserole.

Bake in oven for 30 to 35 minutes.