Mile High Crispy Bacon and Onion Bread - Bread Machine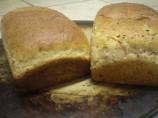 Photo by KarenDenise
Prep Time: 15 hrs
Total Time: 17 hrs 10 mins
Serves: 4-6, Yield: 1.0 Loaf of Bread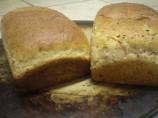 Photo by KarenDenise
About This Recipe
"I could not believe how high this bread was - and it was an experiment too! Wonderful flavours of bacon & onion with just a smidge of mixed herbs. Just crisp up your bacon & fry your onion, and then it all goes in the breadmaker for a delectable bread! Just think - you can have an English Breakfast just by adding some scrambled eggs on top of a slice of this bread!"
Ingredients
150 g smoked lardons or 150 g finely diced smoked bacon

1/2 red onion, very finely diced

360 ml tepid water

2 tablespoons dried nonfat dry milk powder

3 tablespoons olive oil

1 1/2 teaspoons salt

2 1/2 teaspoons sugar

1/2 teaspoon mixed herbs

560 g strong white bread flour

7 g dried yeast
Directions
Fry your bacon in it's own fat in a frying pan and when nearly crispy & cooked, add the diced onion. Stir around thoroughly & continue to cook until the bacon is crispy & the onion soft.

Drain well & allow to cool slightly.

Put the ingredients into your bread machine in the order that is written in your manual; mine is wet first & dry last.

Make sure that the yeast does not come into contact with the liquid.

Select the 1 kilo or 2lb setting on White Rapid or White Normal; choose your crust finish.

Do not add the bacon and onion to the Extras tray - there is too much!

Add the bacon & onion when extras are added in the cycle - towards the end of the kneading time.

When cooked, take out straight away with OVEN GLOVES & turn out to cool on a wire cooling rack.

If the paddle stays in the bread - remember to take it out BEFORE cutting the bread.

Serve with butter, eggs, cheese or by its self with salad.

This is also wonderful toasted too!