Chocolate Blocks With Fruits and Nuts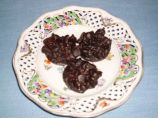 Photo by Mia in Germany
Prep Time: 20 mins
Total Time: 21 mins
Serves: 20, Yield: 60 1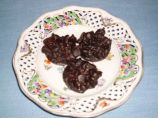 Photo by Mia in Germany
About This Recipe
"A very versatile and handy candy treat! Use a chocolate you enjoy because it is center stage in this recipe. Vary the dried fruits and nuts to reflect your personal taste. Stolen from Orangette.blogspot.com (go there now, you won't regret it if you are a foodie who loves good writing!) stolen/modified from Gourmet Feb. 2003"
Ingredients
1 1/4 lbs bittersweet chocolate, finely chopped

vegetable oil, for greasing the pan

2/3 cup dried cranberries

2/3 cup raisins

2/3 cup pistachios, roasted and shelled ( can be salted or unsalted)

2/3 cup peanuts, roasted ( can be salted or unsalted)
Directions
In the top of a double boiler or a metal bowl set over a saucepan of barely simmering water, melt the chocolate, stirring occasionally until smooth.

While the chocolate is melting, line the bottom and sides of an 8-inch square baking pan with foil, leaving a 2-inch overhang. Using a pastry brush, lightly brush the foil with vegetable oil.

When the chocolate is melted, remove it from the heat, and stir in the fruit and nuts. Pour the mixture into the prepared pan, and spread it evenly with the back of a spoon or rubber spatula. Place the pan in the refrigerator, and chill for about an hour, or until the chocolate is firm. If it is too chilled you will have trouble cutting it.

Use the foil overhang to lift the chilled chocolate mixture from the pan, and place it on a cutting board. Peel back the foil, and cut the chocolate into whatever size you desire.

Note: These candies keep in the refrigerator, sealed in an airtight container with foil between the layers, for up to two weeks.