Zuppa Toscana Soup (Olive Garden Clone)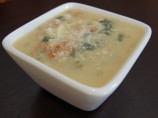 Photo by Gregs Food Blog
Prep Time: 15 mins
Total Time: 1 hr
Servings: 8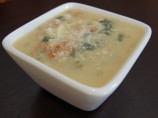 Photo by Gregs Food Blog
About This Recipe
"I have tried quite a few different recipes that state they are a Zuppa Toscana Copy Cat but none of them had much flavor and while they were close I set out to make a soup that is Zuppa Toscana."
Ingredients
2 (32 ounce) kitchen basics chicken stock (don't substitute with broth) or 2 quarts homemade chicken stock ( don't substitute with broth)

3 pieces bacon

1 large onion white, diced fine

3 -4 large russet potatoes, peeled and diced

1 lb sweet Italian sausage

3 garlic cloves, minced

2 tablespoons olive oil

1 bunch swiss chard or 1 bunch kale, cut into bite size pieces

2/3 cup cream or 2/3 cup half-and-half cream

6 cups water

1/4 teaspoon ground aniseed

1/2-1 teaspoon salt, depending on taste

1 dash red pepper flakes

black pepper
Directions
Bring chicken stock and water to a light boil and add potatoes.

In a skillet (preferably cast iron or enameled cast iron) cook bacon until somewhat done and remove (but do not add bacon to the soup, save for a BLT or something).

Sauté the onion in the bacon rendering until almost caramelized (golden color).

Remove and put in boiling stock.

In the same skillet add olive oil and cook Italian sausage (with casings removed).

Add garlic with the sausage and cook until sausage is done and the consistency of ground hamburger meat.

Add mixture to the stock.

By this time check to see if potatoes are cooked by trying to squish them on the side of the stock pot.

When they are done reduce heat and add cream and Swiss chard, salt, anise, red pepper, black pepper.

Serve with garlic bread or corn bread (or even better an herbed Parmesan corn bread).