French Tuna and Rice Salad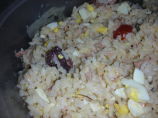 Photo by JackieOhNo!
Prep Time: 10 mins
Total Time: 30 mins
Servings: 4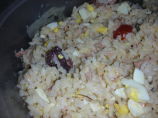 Photo by JackieOhNo!
About This Recipe
"I used to get a tuna and rice salad at a small French bistro and was sad when the restaurant closed. I have been trying to find a similar recipe for years and finally found it from Debra Fioritto Weber. I made a few small changes, such as replacing gherkins with capers and adding tarragon to the vinaigrette."
Ingredients
FOR THE SALAD

1 1/4 cups long-grain white rice

3 hard-boiled eggs, coarsely chopped

3 medium tomatoes, coarsely chopped

2 tablespoons capers

4 ounces kalamata olives or 4 ounces nicoise olives, halved and pitted

1 (6 ounce) cans tuna in water, drained

salt & freshly ground black pepper

FOR THE VINAIGRETTE

1 teaspoon kosher salt

1/2 teaspoon fresh ground pepper

1/8 teaspoon sugar

1/4 teaspoon dry mustard

1/2 teaspoon Dijon mustard

1/2 teaspoon lemon juice

1 teaspoon garlic, minced

2 1/2 tablespoons white wine vinegar

1/2 teaspoon tarragon

1 tablespoon extra virgin olive oil

5 tablespoons vegetable oil

2 tablespoons milk
Directions
Combine ingredients for the vinaigrette and whisk or shake well.

Cook the rice according to package directions.

Drain well and while still hot mix with some of the vinaigrette.

Season with salt and pepper and let cool.

When the rice is cool, add the remaining ingredients and vinaigrette.

season with salt and pepper to taste.