Rosalita's Arepas Con Queso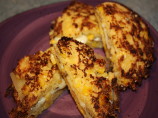 Photo by IngridH
Prep Time: 15 mins
Total Time: 35 mins
Servings: 6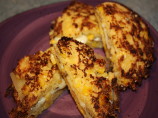 Photo by IngridH
About This Recipe
"From the wonderful cookbook In Nirmala's Kitchen. Arepas can be sweet or savory. This recipe is a little of both."
Ingredients
3/4 cup whole milk

3 tablespoons unsalted butter

1 -2 tablespoon unsalted butter ( for frying)

1/4 cup buttermilk

1 cup frozen corn kernels, thawed

1 cup finely ground yellow cornmeal

1/4 cup sugar

1/4 teaspoon salt

1 cup monterey jack cheese, grated

6 slices mozzarella cheese ( about 6 ounces)
Directions
In a medium saucepan, bring the milk to a boil over high heat. (Watch closely so it doesn't boil over).

Remove from heat and let sit for a minute. Stir in the 3 tbs of butter and the buttermilk. Stir until the butter has completely melted. Let mixture sit for about 2 minutes.

Pulse the corn kernels in a food processor until just coarse.

In a large bowl combine corn, cornmeal, sugar, salt, and Monterey Jack cheese. Stir to combine.

Gradually add enough of the hot milk mixture to make a very thick batter.

Heat griddle or large skillet over medium high heat, and melt 1-2 tbs of butter until the foam subsides.

Drop about 2 tbs of batter into the skillet for each arepa. (They should be about 3 inches in diameter) Cook until underside is golden brown, about 4 minutes, then flip and brown other side.

When the arepas are cooked on both sides and the batter is cooked through, sandwich 1 slice of mozzarella cheese between 2 arepas. Reduce heat to low, and continue cooking just until the cheese melts, turning once or twice. Continue filling and cooking the remaining arepas.

Best served hot.