Strawberry Glazed Cheesecake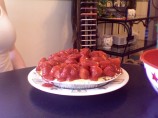 Photo by CherryRed
Prep Time: 25 mins
Total Time: 1 hr 40 mins
Servings: 8-12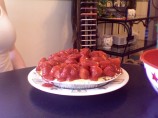 Photo by CherryRed
About This Recipe
"Who doesn't love a good, rich dessert? This strawberry cheesecake has knocked the socks off of everyone I've made it for. It's relatively simple but it can be time consuming. . . get a premade pie crust if you're looking to shorten the process a little. Other than that, all I can say is enjoy! I think you'll be extremely happy with the results. Ratings and critiques appreciated :)"
Ingredients
Crust ingredients

Filling ingredients

1 1/4 lbs cream cheese, softened

3/4 cup sugar

3/4 teaspoon lemon rind, grated

3/4 teaspoon orange rind, grated

1 1/2 tablespoons all-purpose flour, sifted

3 eggs, room temperature

1 whole egg yolk

2 tablespoons heavy cream

1/2 teaspoon vanilla extract

Topping ingredients

4 1/4 cups fresh strawberries, washed and hulled

3/4 cup sugar

1/4 cup cold water

1/8 teaspoon salt ( necessary)

1 1/2 tablespoons cornstarch

1 teaspoon unsalted butter, softened

1/8 teaspoon red food coloring
Directions
Preheat oven to temperature 350°F.

Mix crust ingredients together and press into pie pan. Bake at 350 degrees for 8 to 10 minutes; set aside.

Reduce oven temperature to temperature 250°F.

Beat cream cheese in a bowl with an electric mixer until soft. Add 3/4 cup sugar, lemon rind, orange rind and 1-1/2 Tbs. flour. Mix thoroughly. Add eggs and yolk one at a time, beating after each addition until just incorporated. Beat cream and vanilla. Pour into crust and bake about 65 minutes until edges are firm and center jiggles slightly when pan is moved. Transfer to a wire rack to cool.

Purée 1 cup strawberries in a food processor or blender. Press through a strainer. Combine strawberry purée, 3/4 cup sugar, cold water, salt and cornstarch in a saucepan. Bring to a boil, stirring constantly. Boil 2 minutes, stirring constantly. Remove from heat and stir in 1 teaspoons butter and food coloring. Cool slightly. Arrange whole berries over top of cheesecake. Serve glaze over cheesecake.