Shaved Brussels Sprouts With Pancetta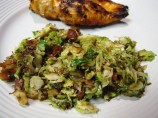 Photo by loof
Prep Time: 35 mins
Total Time: 45 mins
Servings: 8-10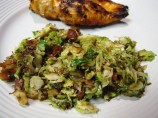 Photo by loof
About This Recipe
"Method of "shaving" found in Sunset Magazine, December 2006. Recipe loosley based on the one in the magazine. It tastes awesome!"
Ingredients
2 lbs Brussels sprouts

1 tablespoon vegetable oil

8 ounces pancetta, cut crosswise into 1/4-inch wide strips

salt, to taste

fresh ground black pepper, to taste

crushed red pepper flakes, to taste

3 -4 tablespoons toasted & chopped cashews

1/4 cup freshly grated parmesan cheese or 1/4 cup freshly grated pecorino romano cheese or 1/4 cup freshly shaved asiago cheese
Directions
Using a sharp knife or mandoline, thinly slice brussels sprouts crosswise, discarding root ends. (The "shaved" sprouts should resemble confetti.).

Pour vegetable oil into a large pot over high heat; add pancetta and stir until slightly crisp, about 5 minutes.

Reduce heat to medium-high, add brussels sprouts, and cook, stirring often, until sprouts are bright green and tender, 3 to 5 minutes.

Add salt, black pepper, crushed red pepper flakes, & cashews and toss to warm.

Sprinkle with Parmesan cheese or Pecorino Romano or Asiago cheese.

Serve hot.

Notes:.

*Use a fork stuck in the core end of the sprout to keep your fingers away from the blade.

**To toast cashews put them on a baking sheet spread out, in a 350ºF oven for 10 minutes, & they will toast nicely.