Restaurant Style Indian Butter Chicken (Chicken Makhani)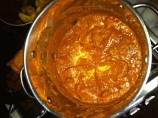 Photo by ms.susan
Prep Time: 5 hrs
Total Time: 6 hrs 30 mins
Servings: 4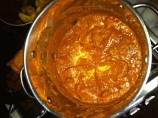 Photo by ms.susan
About This Recipe
"My friends always ask me to make them my Butter Chicken (Chicken Makhani) when I invite them over for dinner! It's *SO* good that I have stopped ordering it at Indian Restaurants! I use a few drops of liquid smoke to give it a 'tandoori' flavour, and don't skip the dried fenugreek leaves. They are what make it taste as though it's from your favourite curry house! UPDATE: One individual has complained that there is excess chili powder in this recipe. It may be that North American chili powder has less heat? Certainly do not omit this ingredient. I used the usual 'chili powder' found at North American grocery stores, the generic type often used in Chili Con Carne. (I hope this clarifies any confusion!)"
Ingredients
1 1/2 lbs boneless skinless chicken breasts

1 tablespoon lemon juice

1 tablespoon Mexican chili powder ( do NOT use chilli pepper! They are not the same!)

salt

3 -4 drops liquid smoke

1 cup yogurt

salt

2 tablespoons garlic paste or 6 garlic cloves

1 tablespoon garam masala

3 tablespoons butter ( melted)

1 tablespoon Mexican chili powder

2 tablespoons ginger paste

1 tablespoon lemon juice

1 tablespoon olive oil

1 tablespoon butter

1 1/2 tablespoons garam masala

1 tablespoon ginger paste

1 tablespoon garlic paste

1 green chili pepper ( Chopped)

1 (28 ounce) cans crushed tomatoes

1 tablespoon tomato paste

1 tablespoon Mexican chili powder

salt

1/2 tablespoon honey or 1/2 tablespoon sugar

1 tablespoon fenugreek leaves

1 cup heavy cream
Directions
To Marinade: Place cubed chicken in a nonporous bowl with yogurt, lemon juice, chili powder,salt and liquid smoke. Refrigerate for 1 hour.

Mix in garlic, garam masala, butter, chili powder, ginger paste, lemon juice and oil. Replace cover and refrigerate to marinate for another 3 to 4 hours.

Preheat oven to 400°F (200°C).

Place chicken on an oven sheet and bake in preheated oven for 20 minutes.

To Make Sauce: Melt butter in a large saucepan over medium heat. Stir in 1 tbsp garam masala. When masala begins to puff and bubble, mix in ginger, garlic paste and green chile peppers. Saute 5 minutes, then stir in tomato puree, tomato paste, chili powder, salt, 1/2 tbsp garam masala and a couple more drops of liquid smoke. Bring to a boil; reduce heat to low and simmer, stirring in honey, fenugreek and cream.

Place chicken and pan drippings in sauce mixture. Simmer on medium-low heat for about an hour or until liquid is reduced by 1/3.

Salt to taste and garnish with fresh chopped cilantro (optional).

Enjoy!