Ridiculously Healthy Banana Oatmeal Cookies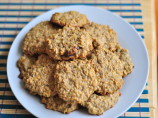 Photo by Chef #1802823680
Prep Time: 10 mins
Total Time: 30 mins
Yield: 9 cookies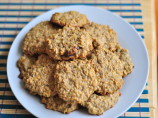 Photo by Chef #1802823680
About This Recipe
"In a bid to add to my seemingly-naughty-but-actually-very-healthy recipe collection, I invented these ridiculously healthy banana oatmeal cookies! They have no added sugar, no butter/marg and no flour in them and (considering this) taste rather magnificent if I do say so myself! I'll say it now - if you're NOT on a diet then you probably won't think so much of these. They are pretty yummy, but there are probably plenty of nicer recipes (ie. with butter and sugar) if you're not weight watching. I find these to be a really nice, healthy, filling treat though, and I hope you enjoy them too!"
Ingredients
3 ripe bananas

2 cups oats ( not instant, the proper scotts type)

1/2 cup skim milk

1 egg

2 tablespoons Splenda sugar substitute

1/2 teaspoon vanilla extract

1 tablespoon low-fat peanut butter (optional)
Directions
Preheat the oven to 180c.

Mash the bananas and mix with the oats, milk and egg before adding the remaining ingredients (it just mixes a bit easier and more evenly this way). These measurements make the mixture just the right consistency for my liking, but if it looks a bit runny to you at this point, throw in another handful of oats to thicken it up.

Grease a cookie tray with 1 cal spray and spoon the mixture on to make around 9 large cookies.

Bake for around 20mins until golden brown.