Savory Crackers (Gluten/Casein Free)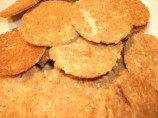 Photo by Laurie150
Prep Time: 30 mins
Total Time: 50 mins
Yield: 25 crackers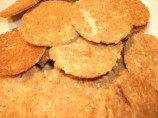 Photo by Laurie150
About This Recipe
"Homemade crackers. My family says that they taste just like "Breton" crackers. Below, I actually used more starch and less flour combination (still totaling 3/4 cup). I also didn't really measure the Italian seasoning or garlic powder."
Ingredients
1/2 cup brown rice flour

1/4 cup potato starch

1/2 teaspoon xanthan gum

1/4 teaspoon baking soda

1/2 teaspoon salt

2 teaspoons italian seasoning

1 teaspoon garlic powder

2 tablespoons sunflower oil

1 tablespoon honey

3 tablespoons sesame seeds, toasted

2 -3 tablespoons soymilk, unsweetened

1/2 teaspoon cider vinegar
Directions
Preheat oven to 350°F and grease cookie sheet, use parchment, or use a silicone baking mat (that is what I used).

Mix together flours, gum, soda, salt, seasonings.

Mix together oil, honey, and stir into flour mix. Add sesame seeds, then milk and vinegar. Start with the 2 tablespoons of milk, and see if you need that splash more.

Roll out thinly, then use a cookie cutter to make into crackers (I used a small circle, about the size of Ritz).

Bake for about 12 minutes (they start to brown nicely, then flip and bake for about 4-8 more. Depends how thick you made 'em!

*Note: there are some I've stored in the freezer, and we haven't re-tried them yet, but I'll update when we do!