Connecticut Pasta With Vodka Sauce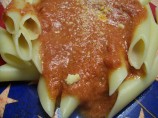 Photo by HeatherFeather
Prep Time: 20 mins
Total Time: 55 mins
Servings: 4-6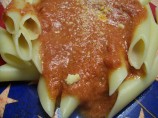 Photo by HeatherFeather
About This Recipe
"When we lived in North Haven, CT, we were surrounded by so many Italian restaurants. It was the first time I had ever been introduced to Vodka sauce. This recipe came from the community cookbook I got while living in North Haven and it is my husband's favorite version. I measure most of this "by taste" seasonings wise, so please do not be afraid to add as much salt, pepper, cheese, and chili as your taste buds desire. I do however measure the tomatoes, cream and vodka and 4 nice big juicy cloves of garlic is usually just plenty for us. I have updated the recipe to give appproximate measures for the salt and black pepper."
Ingredients
1 lb penne pasta, cooked and drained or 1 lb ziti pasta, cooked and drained, reserving a bit of the cooking liquid

1 (28 ounce) cans crushed tomatoes ( I prefer Muir Glen brand)

1/4 cup extra virgin olive oil

1/4 teaspoon crushed red pepper flakes ( to taste)

4 fresh garlic cloves, minced

1/4 cup vodka

1 cup half-and-half

fresh parsley, garnish

fresh parmesan cheese, to taste

1/4-1/2 teaspoon salt, to taste ( or more as needed)

1/8 teaspoon pepper, to taste ( either black or cayenne if you like it zesty) (optional)
Directions
Saute olive oil, crushed red pepper and garlic in a large pan over medium heat to lightly brown the garlic (be careful not to burn it).

Add the tomatoes, season to taste with some salt & pepper,and cook 30 minutes, lowering the heat some to keep from burning.

Add vodka and heat 2 minutes.

Add cooked pasta to the sauce and toss.

Stir in the half and half and heat through, just a few minutes.

Give the sauce a taste and depending upon how you like the consistency, you might wish to add a little bit of the pasta cooking liquid, then taste again and add as much salt (to taste) as you feel it needs and pepper as well (to taste),if you feel pepper is needed for a bit more kick (I find a dash of black pepper and the red chili flakes are plenty for heat).

Toss with parsley, sprinkle with additional red pepper flakes if desired and a hearty grating of fresh parmesan cheese.

(TIP:I also sprinkle a small amount of a German seasoning called Fondor, just a pinch.you could use Accent if you like or omit.).