Bonefish Grill's Bang Bang Shrimp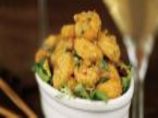 Photo by Smurfetta Chef #427781
Prep Time: 15 mins
Total Time: 30 mins
Servings: 4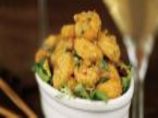 Photo by Smurfetta Chef #427781
About This Recipe
"Yes it's a copycat recipe. I like it very much so wanted to share it. If you are in hurry you can substitute the shrimp with store bought pre-battered frozen shrimp. Get the Bang Bang sauce from from www.dinnisselect.com I understand that the sauce from Dinnis is no longer called Bang Bang Sauce. Now you should order Dinnis Shrimp Sauce (very hot). 5/2010"
Directions
You will be using 1 bottle Dinni's Select Bang Bang Sauce.

Peel and Devein shrimp.

Sprinkle shrimp with 1 1/2 teaspoons salt; let stand at room temperature for 12 minutes. Combine eggs, milk, corn starch, flour, baking powder in mixing bowl; mix until smooth. Heat oil in deep fryer to 350°F Add batter to the bowl with shrimp, stir till the shrimp is well coated with batter drop shrimp in the deep fryer and fry till golden brown (about 3 minutes).

In a separate bowl or a ( large zip lock bag ) empty one 12 oz. bottle of Dinni's Select Bang Bang Sauce, drop the fried shrimp and still till all the shrimp is coated with the sauce. Garnish with fresh green or red hot peppers.