Comforting Beef Stew...just Like Grandma Used to Make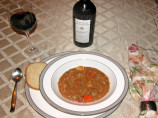 Photo by Laura & Shawn
Prep Time: 15 mins
Total Time: 2 hrs 15 mins
Servings: 8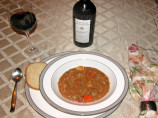 Photo by Laura & Shawn
About This Recipe
"My husband & I were feeling under the weather & longing for some comforting hot soup. I started craving my friend's grandmother's home made stew but couldn't get a hold of her, so I just threw together some ingredients that sounded good. My husband & I REALLY enjoyed it. I served it w/ hot home made bread. It truly satisfied our craving & did wonders for our cold."
Ingredients
2 lbs beef tip roast ( cut into bite size cubes)

2 cups stewed tomatoes ( 16 oz.)

1/2 cup all-purpose flour

1/4 cup olive oil

3 1/2 cups beef broth ( Swansons or any beef broth will do, 32 oz)

3 medium russet potatoes ( peeled & diced)

3 medium red potatoes ( peeled & diced)

1 medium yellow onion ( finely chopped)

2 medium onions ( diced)

1 large carrot ( finely chopped)

2 large carrots ( thickly sliced)

1/4 cup celery ( finely chopped)

3 celery ( thickly sliced)

2 cups baby portabella mushrooms ( cubed) (optional)

1/2 cup frozen green pea (optional)

3 teaspoons garlic ( minced)

1 teaspoon dried basil

1/2 teaspoon dried thyme

1 tablespoon kosher salt

1/2 teaspoon pepper

1 tablespoon fresh Italian parsley ( finely chopped)
Directions
Heat olive oil on medium low in Dutch oven or big soup pot.

Pour flour into plastic bag (1 gallon).

Place cubed meat inside & shake vigorously.

Swirl meat w/ wooden spoon to coat thoroughly.

Pour meat & finely chopped onion into Dutch oven.

Wait approximately 1.5 minutes then add 2 tsp of garlic,.

remaining flour, salt & pepper. Stir until browned.

(Be careful not to burn the garlic).

Add finely chopped carrots, finely chopped celery, diced onions & stir.

Add broth, potatoes, diced onions, remaining garlic, parsley, thyme, basil, then stir.

Bring to a boil, stir & reduce heat to low. Cover & simmer for 1.5 hours, stirrin frequently (approx. every 20-30 minutes.).

Add stewed tomatoes, sliced carrots & celery. Stir thoroughly & cook for 25 minutes.

Add mushrooms and peas (if applicable) and stir. Cook for 5 minutes.

Spoon soup into bowls & serve w/ toasted sourdough or french bread w/ butter.

Allow to cool slightly before eating. (Soup will be scalding hot.) Enjoy :0).