French Style Boeuf Bourguignon Cottage-Shepherd's Pie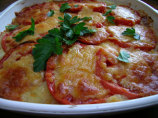 Photo by Rinshinomori
Prep Time: 20 mins
Total Time: 1 hr 20 mins
Serves: 4, Yield: 1 Pie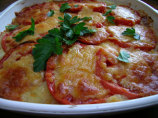 Photo by Rinshinomori
About This Recipe
"Technically speaking, a Shepherd's pie is made with leftover lamb and a Cottage pie is made with leftover beef, but what's in a name - especially as this is my version of a French Cottage - Shepherd's pie made with leftover Boeuf En Daube - French Beef Burgundy in the Crock Pot!! It will work with any hearty beef or lamb stew leftovers and is delicious served with savoy cabbage & carrots. It will also work very well with Crock Pot Baked Spiced Red Cabbage With Apples or Pears I have adapted this recipe to feed about 4 people, that is based on the mashed potato quantities - but you can change the quantities to suit yourself; one, three or more people! N.B. I have also given an alternative measurement of butter - depending on how buttery and naughty you want your mashed potatoes to be, and, an option of a cheesy topping!"
Ingredients
leftover beef, bourguignon or leftover beef or lamb, stew

2 lbs potatoes, peeled & cubed

2 teaspoons French Dijon mustard

1 tablespoon creme fraiche or 1 tablespoon sour cream

1 teaspoon salt

1 teaspoon black pepper

2 -4 ounces butter

2 -3 tomatoes, sliced thinly

parsley, garnish

4 ounces grated sharp cheddar cheese (optional)
Directions
Pre-heat oven to 200C/400F or Gas mark 6.

Lightly grease a large ovenproof dish with some of the butter.

Put your Boeuf Bourguignon, Beef or Lamb stew leftovers into the greased ovenproof dish. If the pieces of meat are a bit to chunky, break them down a bit - likewise, cut the shallots into half if necessary.

Boil your potatoes in salted water for about 25 minutes or until very tender.

Drain the potatoes, add the Dijon mustard, creme fraiche/sour cream, butter & season well with salt & black pepper.

Mash thoroughly with a potato masher or a hand held blender, mash until there are no discernable lumps & the mash is well mixed.

Spoon the mashed potatoes over the top of the meat, smoothing it all the time with the back of a spoon.

Rough up the potato with a fork to give an attractive appearance and place the sliced tomatoes on top.

Add the grated cheese if using.

Bake in the preheated oven for about 25 to 35 minutes - or until the pie is well heated through & the top is golden brown and bubbling!

Garnish with fresh parsley and serve with fresh greens, savoy cabbage, red cabbage or carrots.