Barefoot Contessa's Blueberry Coffee Cake Muffins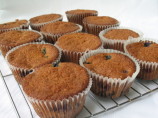 Photo by Redsie
Prep Time: 20 mins
Total Time: 50 mins
Yield: 16 muffins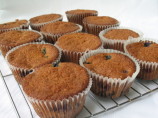 Photo by Redsie
About This Recipe
"Adapted from the Barefoot Contessa Family Style Cookbook, 2002. At the intro of this recipe Ina Garten says that there were days that her specialty food shop would bake 2,000 of these muffins on a Saturday morning and by 9:30AM, they would all be gone! I changed the recipe just a bit, instead of using 2 1/2 cups all-purpose white flour, I split the flour between all-purpose white flour and wheat flour. You don't have to do this, if you don't want to. I always try to incorporate wheat flour into recipes that call for flour."
Ingredients
12 tablespoons unsalted butter, at room temperature

1 1/2 cups sugar

3 extra-large eggs, at room temperature

1 1/2 teaspoons pure vanilla extract

8 ounces sour cream

1/4 cup milk

1 1/4 cups all-purpose flour

1 1/4 whole wheat flour

2 teaspoons baking powder

1/2 teaspoon baking soda

1/2 teaspoon kosher salt

1 pint fresh blueberries, picked through for stems
Directions
Preheat oven to 350 degrees.

Place 16 paper liners in muffin pans.

In the bowl of an electric mixer fitted with the paddle attachment, cream the butter and sugar until light and fluffy, about 5 minutes.

With the mixer on low speed, add the eggs one at a time, then add the vanilla, sour cream, and milk.

In a separate bowl, sift together the flour, baking powder, baking soda, and salt.

With the mixer on low speed add the flour mixture to the batter and beat until just mixed.

Fold in the blueberries with a spatula and be sure the batter is completely mixed.

Scoop the batter into the prepared muffin pans, filling each cup just over the top.

Bake for 25 to 30 minutes, until the muffins are lightly browned on top and a cake tester comes out clean.

**Barefoot Contessa uses an ice-cream scoop to measure the batter so that every muffin comes out the same size.

***Greasing the tops of the pans makes it easier to take the muffins out after baking.