Mashed Potato & Gravy - Barefoot Contessa - Ina Garten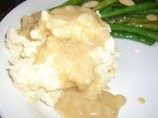 Photo by Chef*Lee
Prep Time: 10 mins
Total Time: 30 mins
Servings: 6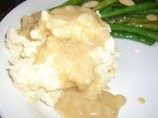 Photo by Chef*Lee
About This Recipe
"www.barefootcontessa.com"
Ingredients
For Mashed Potatoes

3 lbs white boiling potatoes, peeled and quartered

kosher salt

1/4 lb unsalted butter

1/2-1 cup half-and-half

1/2 cup sour cream

1/2 teaspoon fresh ground black pepper

For Gravy

1/4 lb unsalted butter

1 1/2 cups chopped yellow onions ( 2 onions)

1/4 cup all-purpose flour

1 teaspoon kosher salt

1/2 teaspoon fresh ground black pepper

2 cups chicken stock, preferably homemade, heated

1 tablespoon cognac or 1 tablespoon brandy

1 tablespoon heavy cream (optional)
Directions
For Mashed Potatoes:.

Cook the potatoes in a large pot of boiling salted water for 15 to 20 minutes, until very tender.

Meanwhile, heat the butter and half-and-half in a small saucepan.

Drain the potatoes.

While still hot, place the potatoes in the bowl of an electric mixer fitted with the paddle attachment.

With the mixer on low speed, slowly add the hot half-and-half mixture, the sour cream, 2 teaspoons salt, and the pepper.

Mix until the potatoes are mashed but not completely smooth.

Serve hot with gravy on the side.

For Gravy:.

In a large (10- to 12-inch) sauté pan, cook the butter and onions on medium-low heat for 12 to 15 minutes, until the onions are lightly browned.

Don't rush this step; it makes all the difference when the onions are well cooked.

Sprinkle the flour into the pan, whisk in, then add the salt and pepper.

Cook for 2 to 3 minutes.

Add the hot chicken stock and Cognac, and cook uncovered for 4 to 5 minutes, until thickened.

Add the cream, if desired, and serve.