Workday Borscht (Vegetarian/ Crock Pot)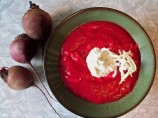 Photo by Prose
Prep Time: 20 mins
Total Time: 9 hrs 20 mins
Servings: 4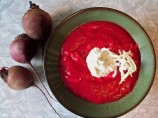 Photo by Prose
About This Recipe
"From the Whole Foods website. We really like this recipe. The original recipe says to serve with hard boiled eggs and warm "take-n-bake" bread."
Ingredients
2 bunches red beets

3/4 lb russet potato, peeled and cut in half

1 large yellow onion, peeled and cut into quarters

32 ounces vegetable broth

1 tablespoon tomato paste

3 cups finely shredded green cabbage ( about 1/4 small head)

1/4 cup chopped fresh dill, plus

3 tablespoons chopped fresh dill

1 tablespoon red wine vinegar, to taste

1 -2 tablespoon lemon juice, to taste

sour cream, to taste

lemon wedge

salt, to taste
Directions
Remove tops from beets and set aside for another use. Peel beets and cut in half if larger than 2 inches in diameter.

Place beets, potato, onion, broth, and tomato paste in slow cooker and cook on high heat for 4 hours or low heat for 8 hours.

Process soup in batches in a blender until smooth and return to slow cooker. Take great care when blending hot liquids. Do not fill blender canister more than half full, and make sure that the top is securely attached.

Before you are ready to serve, bury the cabbage in the puree. Cook on high, covered, for 45 minutes. Add 1/4 cup dill, vinegar and lemon juice and season to taste with salt.

In a separate bowl, mix remainder of dill with sour cream. Serve with a dollop of the sour cream in each bowl of soup and with lemon wedges.