French Stuffed Red Bell Peppers With Fennel and Goat's Cheese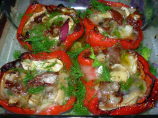 Photo by French Tart
Prep Time: 15 mins
Total Time: 2 hrs
Serves: 3-6, Yield: 6.0 stuffed pepper halves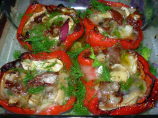 Photo by French Tart
About This Recipe
"One of my most popular vegetarian recipes at "Auberge de la Fontaine" and also great served as a starter too. There is something very theraputic about making this dish - choosing the plump red peppers & fresh fennel bulbs - then selecting a fine Chevre - goat's cheese! It is delicious served warm or at room temperature with the garlicky Balsamic vinegar & olive oil dressing they are roasted in, drizzled over the top. Mop up the juices with crusty fresh French bread and serve with a simple tossed salad. These also make a very colourful accompaniment for most main courses."
Ingredients
3 large red peppers, trimmed & halved

2 tablespoons olive oil

2 tablespoons balsamic vinegar

1 large red onion, peeled & cut into wedges

1 fennel bulb, trimmed & cut into wedges

3 garlic cloves, peeled & crushed

salt

black pepper

3 -4 sun-dried tomatoes packed in oil, drained & chopped finely

200 g log goat's cheese
Directions
Pre-heat the oven to 120C/240F/Gas 1.

Cut the peppers in half, discard the core & seeds and also trim away the white membrane too.

Grease a Le Creuset roasting or ovenproof dish.

Cut the onion & fennel bulb into 6 wedges each. (Keep the the delicate green fronds from the fennel bulb & put to one side.).

Put the onion wedges, fennel wedges & cushed garlic into a mixing bowl & add the olive oil, balsamic vinegar, salt & black pepper - mix well.

Divide the onion & fennel wedges between the 6 pepper halves, arranging them neatly within the peppers & season well.Pour the remaining oil & vinegar dressing over the top of them.

Bake for 1 hour and 30 minutes or until the peppers are soft & just tinged brown.

Remove the stuffed peppers from the oven & increase the oven temperature to 200C/400F/Gas 6.

Sprinkle the chopped sun-dried tomatoes over the top of the peppers.

Slice the goats cheese & arrange over the top of the stuffed peppers; return them the oven for 5-10 minutes or until the cheese is melted & bubbling.

Remove from the oven, leave to cool slightly and serve them warm or at room temperature with the cooked dressing drizzled over the top of them.

Garnish with the green fronds kept from the fennel bulbs.

Serve as a starter, 1 pepper half per person with a side salad or as a main course - 2 pepper halves per person with bread & salad.

These can also be served as a very colourful & elegant vegetable accompaniment!