Cranberry Bliss Bars (Starbucks Copycat)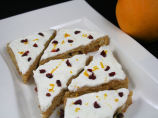 Photo by **Tinkerbell**
Prep Time: 40 mins
Total Time: 2 hrs 40 mins
Servings: 40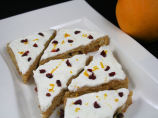 Photo by **Tinkerbell**
About This Recipe
"You'll find these bars at Starbucks during special holidays. The texture is like a chewy brownie, but the flavors include white chocolate, zesty orange, and cranberry, finished with a cream cheese frosting. NOTES - this recipe uses a 10x15 pan. One of the photos shows you how to make the right cuts to create signature triangle shapes. Nov. 2013 note - the bars bought from Starbucks have gone down-hill this year with icing that is flavorless and no real ginger flavor to the bars. Skip Starbucks and make your own! For Valentine's Day, I used a heart-shaped cookie cutter and tinted the icing pink. They were beautiful!"
Ingredients
BARS

1 cup butter ( 2 sticks, very soft)

1 cup brown sugar ( some cooks reduce this to 2/3 cup)

1/3 cup granulated sugar

3 large eggs

2 teaspoons orange extract or 2 teaspoons vanilla extract

2 cups flour

1 1/2 teaspoons baking powder

1 teaspoon ground ginger

3/4 cup craisins ( dried cranberries)

3/4 cup white chocolate chips

FROSTING

3 ounces cream cheese, softened

2 tablespoons butter, softened

3 cups confectioners' sugar

1 teaspoon orange extract ( or vanilla)

TOPPING

1/3 cup craisins, chopped

1 -2 tablespoon grated orange rind

1/3 cup white chocolate chips

1/2 teaspoon canola oil
Directions
Preheat the oven to 350 degrees (325 for a glass or dark pan). Prepare a 10x15 by lining it with parchment paper or use a non-stick spray.

BARS: With an electric mixer, beat together softened butter and sugars 3-5 minutes until light; gently blend in eggs and orange extract (don't overbeat eggs). Add the flour, baking powder, and ginger and beat briefly. Add the cranberries and chips, stirring just until incorporated.

Spread thick batter in prepared 10x15 pan. Bake 350 for 20-24 minutes until light brown AT EDGES and a skewer tests clean. Don't overbake or your bars will be dry. Let it cool completely. NOTE: If you use a 9x13 pan, the bars will be thicker and will take 26-28 minutes.

FROSTING: Blend cream cheese and butter until fluffy. Add orange extract and confectioners sugar and beat until frosting is fluffy and spreadable (adding 1 t. milk if needed). Spread evenly over COOLED bars.

GARNISH: Use a zester to remove rind from an orange; sprinkle zest over frosted bars. Chop 1/3 cup Craisins coarsely; sprinkle over frosted bars.

DRIZZLE: Mix white chocolate and oil in a glass measuring cup. Microwave 1 minute; stirring every 15 seconds until melted. Use a fork or whisk to drizzle the white chocolate diagonally across the bars.

Allow one hour for the white chocolate to set before cutting. **To make signature Starbuck triangles, cut into 20 large squares (5 cuts by 4 cuts with the knife). Then cut each square in half diagonally to create triangles.