Creamy Chocolate Mousse Cheesecake (No Bake)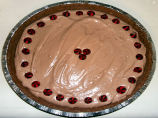 Photo by Karen=^..^=
Prep Time: 15 mins
Total Time: 15 mins
Servings: 8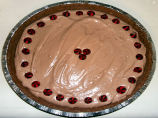 Photo by Karen=^..^=
About This Recipe
"I created this out of necessity. I didn't have enough chocolate mousse for a pie and I didn't have enough cream cheese for a cheesecake. I loved how light and creamy it came out, so I decided to post it."
Ingredients
1 chocolate graham wafer pie crust

1 (3 1/8 ounce) boxes chocolate mousse mix

1 cup milk ( or whatever your mix requires)

8 ounces cream cheese, softened

1/2 cup confectioners' sugar

1 cup chocolate chips (optional)
Directions
In a medium bowl, whip together cream cheese and confectioners' sugar until light and smooth.

In a large bowl, prepare chocolate mousse mix with milk, as directed on package.

Gently fold cream cheese mixture into mousse, until mixture is no longer streaky.

Sprinkle the bottom of pie crust with some of the chocolate chips, if using.

Spoon mousse mixture into pie crust and decorate with remaining chocolate chips.

Refrigerate for 2 hours before serving.

Store in refrigerator.