Bulgarian Chushki Burek (Bulgarian Peppers Burek)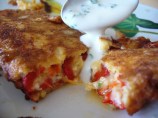 Photo by 5thCourse
Prep Time: 35 mins
Total Time: 50 mins
Servings: 4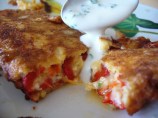 Photo by 5thCourse
About This Recipe
"Traditional Bulgarian meal."
Ingredients
For the peppers

8 bell peppers ( red or green)

500 g white feta cheese ( from cow or sheep)

100 g yellow cheese

5 eggs

300 g breadcrumbs

3 -4 garlic cloves ( smashed with a pinch of salt)

1 tomatoes

1 tablespoon thyme

2 teaspoons parsley

1/4 teaspoon black pepper ( powder)

150 g oil or 150 g olive oil

For the sour souse

500 g Bulgarian yogurt or 500 g sour plain yogurt

2 garlic cloves, smashed with

1 pinch salt

2 teaspoons dill

2 teaspoons parsley

1 tablespoon olive oil

1 teaspoon white vinegar

1/2 teaspoon salt
Directions
For the sauce:.

Mix together the garlic and the spices and then add the yoghurt and then the oil and the vinegar.

Cool the sauce in the fridge before you serve it.

For the peppers:.

Barbecue the peppers (or fry them without oil) until their skin becomes dark brown (be careful not to burn the peppers). Then peel off the skin, clean the handle and the seeds from inside.

Grind the white feta cheese, the yellow cheese and the tomato and mix them all together. You can add 100ml of the feta cheese water so that the mixture will not be too thick.

Mix 1 egg and add them to the cheese mixture then add all the spices.

Fill the peppers with the ready cheese mixture.

In two separate bowls put the bread crumbs and in the other mix 4 eggs with a pinch of salt and a pinch of baking powder.

Boil in a pan oil at 180°C and then dip the already filled peppers in the bowl with the eggs, then in the bowl with the bread crumbs, and then again in the eggs and fry them in the oil.

Serve the peppers hot with a sour sauce.