Almond Pork Tenderloin With Dried Cranberry-Apple Conserve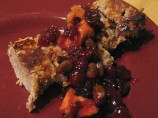 Photo by Redsie
Prep Time: 20 mins
Total Time: 55 mins
Servings: 8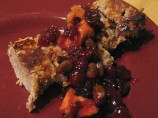 Photo by Redsie
About This Recipe
"A great Cooking Light recipe. Was enjoyed by my bf ... who doesn't like pork!! :). I used "Panko" (which is Japanese breacrumbs)."
Ingredients
2 (1 lb) pork tenderloin

2 cups breadcrumbs

1 tablespoon sliced almonds, finely chopped

1 tablespoon dried rosemary

1 teaspoon fresh coarse ground black pepper

1/2 teaspoon salt

2 large egg whites, lightly beaten

cooking spray

Dried Cranberry-Apple Conserve

2 cups dried sweetened cranberries

1 1/2 cups boiling water

1/3 cup diced dried apple

1/3 cup raisins

1 tablespoon minced crystallized ginger

1/3 cup white wine vinegar

3 tablespoons sugar

1/8 teaspoon ground red pepper

1 dash ground allspice

1 dash ground cinnamon

1 dash ground ginger

1/4 cup strawberry jam or 1/4 cup raspberry jam
Directions
Conserve:.

Combine the first 5 ingredients, cover and let stand 30 minutes.

Combine vinegar and next 5 ingredients in a small saucepan, and bring to a boil, stirring mixture frequently. Add the fruit mixture. Bring to a boil; reduce heat, and simmer for 5 minutes. Stir in jam. Remove from heat, and cool to room temperature.

Meat:.

Preheat oven to 425°F.

Trim fat from pork. Combine breadcrumbs and next 4 ingredients in a shallow dish. Dip pork in egg whites; dredge in breadcrumb mixture. Place pork on a broiler pan coated with cooking spray. Insert a meat thermometer into thickest part of pork. Bake at 425F for 30 minutes or until thermometer registers 160 (slightly pink).

Cover with foil, let stand 10 minutes.

Cut into 1/4 inch slices.

Serve pork with Conserve.