Blueberry-Orange Nut Bread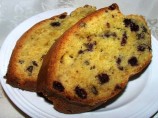 Photo by twissis
Prep Time: 15 mins
Total Time: 1 hr 15 mins
Serves: 24, Yield: 2 loaf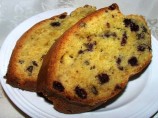 Photo by twissis
About This Recipe
"I have had a small metal decorative plate for many years. This recipe is printed on it and I somehow never got around to trying it. It sounds similar to a Cranberry Nut bread that is one of my favorites, but is a bit different from the other blueberry bread recipes here at Zaar. Since my family is "cranberried out" after the holidays, I am going to make this for New Year's Day. There are no directions on the plate, just the ingredient list. Times are a guess-timate and I will update this right after I bake it."
Ingredients
3 cups all-purpose flour

3/4 cup sugar

1 tablespoon baking powder

1 teaspoon salt

1/4 teaspoon baking soda

1/2 cup butter or 1/2 cup margarine, melted

1/2 cup milk

3 eggs

1 tablespoon orange rind, grated

2/3 cup orange juice

1 cup blueberries ( fresh, frozen or drained canned)

1/2 cup walnuts, chopped
Directions
Preheat oven to 350 degrees.

Sift/mix flour, sugar, baking powder, salt and baking soda in large bowl.

Beat eggs in a small bowl and add to the dry mixture.

Add melted butter, milk, and orange juice.

Mix just until you have a smooth batter.

Gently fold in blueberries and walnuts.

Pour into two greased & floured loaf pans.

Bake 1 hour or until a toothpick inserted in the middle come out clean.

Cool on a rack.

Wrap and store in the refrigerator.