Cinnamon Roll Coffee Cake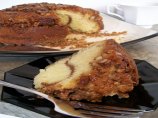 Photo by * Pamela *
Prep Time: 15 mins
Total Time: 55 mins
Servings: 9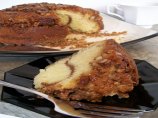 Photo by * Pamela *
About This Recipe
"The flavor of a cinnamon roll and the ease of a coffee cake! A friend emailed me this recipe, which she got from a message board. This is quick to put together, super moist and simply delicious. It is different than many coffee cakes out there and I hope you enjoy it as much as we do! The original baking time I was given was 50-60 minutes. Mine was done in 40 minutes, so I changed the baking time on it. If yours takes longer than what I have stated, I guess it was just my oven. :)"
Ingredients
3/4 cup brown sugar

1/4 cup heavy cream

1 pinch salt

1 cup chopped pecans, toasted

1/2 cup brown sugar

1/3 cup all-purpose flour

4 tablespoons unsalted butter, sliced

1 1/2 tablespoons ground cinnamon

1/4 teaspoon table salt

1/2 cup unsalted butter, softened

3/4 cup sugar

1/2 cup buttermilk

1/4 cup low-fat vanilla yogurt

2 eggs

1 1/2 cups all-purpose flour

1/2 teaspoon baking powder

1/2 teaspoon baking soda

1/2 teaspoon table salt
Directions
Preheat oven to 350°; coat a 9" pan with nonstick spray.

Stir together brown sugar, cream, and pinch of salt for the caramel. Pour into prepared pan and spread to coat the bottom. Sprinkle pecans over the caramel.

Process brown sugar, flour, butter, cinnamon, and 1/4 teaspoons salt for the streusel in a food processor. Pulse until small clumps form; set aside. If you don't have a food processor, do it by hand.

Whisk buttermilk, yogurt, and eggs together.

Sift flour, baking powder, soda, and 1/2 teaspoons salt together.

Cream butter and sugar with a mixer just until combined.

Alternately add dry and wet ingredients, starting and ending with the dry. Blend each addition just until incorporated.

Spread half the batter over the caramel, then sprinkle with half the streusel. Carefully spread remaining batter over that and top with remaining streusel.

Bake 40-45 minutes, or until a toothpick comes out clean. Cool cake for 5 minutes on a rack, then run a paring knife around the sides to loosen. Invert onto a serving platter while hot, then let cool slightly before slicing.

The top is a little sticky, so use a sharp thin bladed knife to cut.