Kittencal's Fluffy Mashed Potatoes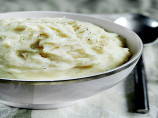 Photo by Aaliyah's&Aaron'sMum
Prep Time: 30 mins
Total Time: 30 mins
Servings: 4-6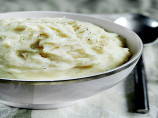 Photo by Aaliyah's&Aaron'sMum
About This Recipe
"Boiling the potatoes in broth instead of water creates a wonderful flavor but you may of coarse use only water or half of each --- use only russets or Yukon gold potatoes for this and once the potatoes are peeled do not slice them leave whole when cooking this will prevent the potatoes from absorbing too mush water, making for a better texture when mashing --- for extra flavor I most always add in 1 teaspoon onion powder and you may also add in some roasted garlic is desired or some garlic powder--- all amounts may be increased or adjusted to taste."
Ingredients
chicken broth (or use enough broth to cover potatoes, or use half water and broth) or water ( or use enough broth to cover potatoes, or use half water and broth)

7 large russet potatoes ( peeled and leave whole, do not cut)

1/2 cup half-and-half cream ( can use milk)

1/3 cup sour cream ( can use more)

1/2 cup butter, cubed

1 egg ( can use 2 eggs)

salt ( to taste)

fresh ground pepper ( optional and to taste)
Directions
Place the whole potatoes into a saucepan then cover with the broth (or broth and water or all water, make certain that potatoes are covered with the broth) bring to a boil.

Reduce heat to medium-low then, cover and cook until potatoes are fork-tender (since the potatoes are left in one piece cooking time will take about 25 minutes or a little more) drain then place into a large bowl.

Add in cream or milk, sour cream and butter, then mash the potatoes until small chunks.

Add in the eggs and continue to mash or mix until fluffy.

Season with salt and pepper to taste.