Low Carb ' I'm Dying for Spaghetti!' Soup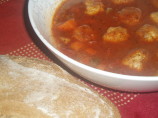 Photo by AmandaInOz
Prep Time: 30 mins
Total Time: 1 hr 15 mins
Servings: 6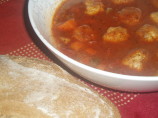 Photo by AmandaInOz
About This Recipe
"The main thing I miss when low carbing is a big plate of spaghetti and meatballs. This soup does the trick for me!"
Ingredients
1 lb frozen meatballs

2 tablespoons olive oil

1 small onion

2 stalks celery

1 cup carrot

4 garlic cloves, minced

2 tablespoons basil

1 tablespoon oregano

1 teaspoon marjoram

28 ounces ready-to-serve beef broth

1 (28 ounce) cans plum tomatoes ( diced)

1 cup zucchini ( diced)

1 cup mushroom ( diced)

1/2 green pepper ( diced)

parmesan cheese (optional)
Directions
Heat olive oil in a large saucepan.

Finely chop onion, celery, carrots, and garlic in food processor.

Sautée vegetable mixture in olive oil until soft and fragrant.

Add basil, oregano and marjoram. continue cooking for 1 minute.

Add tomatoes and broth; bring to a boil.

Stir in meatballs, diced zucchini, mushrooms, and green pepper.

Reduce heat; cover and simmer 30 to 45 minutes.

Garnish each serving of soup with parmesan cheese, if desired.