Golden Grand Marnier Cake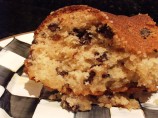 Photo by FLKeysJen
Prep Time: 15 mins
Total Time: 1 hr 20 mins
Serves: 16, Yield: 1 cake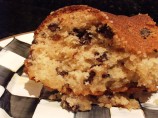 Photo by FLKeysJen
About This Recipe
"I think this is from the Cake Bible. Have to bake this for my brother - he loves Grand Marnier!! Will keep you posted!!"
Ingredients
1/2 cup bittersweet chocolate, chopped into 1/4 inch pieces

2 -3 tablespoons Grand Marnier

1 1/2 teaspoons cake flour

3 large eggs

1 cup sour cream

1 1/2 teaspoons vanilla

2 1/2 cups sifted cake flour

1 cup sugar

1/2 cup unblanched sliced almonds, toasted and finely ground

1 tablespoon unblanched sliced almonds, toasted and finely ground

1 1/2 teaspoons baking powder

1 teaspoon baking soda

3/4 teaspoon salt

2 tablespoons grated orange zest

1 cup unsalted butter, softened

Grand Marnier Syrup
Directions
Preheat oven to 350°F.

In a small bowl, toss the chocolate chips and a few spoons of Grand Marnier until chips are moistened and shiny. Add the 1 ½ teaspoon flour and toss until evenly coated.

In a medium bowl, lightly combine the eggs, ¼ cup sour cream, and vanilla.

In a large mixing bowl combine the dry ingredients and orange zest and mix on low speed a moment to blend. Add the butter and remaining ¾ cup sour cream. Mix on low speed until the dry ingredients are moistened. Increase to medium high speed for 1 ½ minutes to aerate and develop structure. Scrape down sides. Gradually add egg mixture in 3 batches, beating for 20 seconds after each addition to incorporate the ingredients. Scrape down the sides, and fold in the chocolate chips.

Scrape the batter into a well buttered bundt pan. Bake 55 to 65 minutes or until the cake tests done with a toothpick.

Shortly before the cake is done, prepare the syrup: Heat the sugar, orange juice, and Grand Marnier until the sugar is dissolved. DO NOT BOIL. As soon as the cake comes out of the oven, place the pan on a rack, poke the top all over with a wire tester, and brush on ½ the syrup. Cool in the pan for 10 minutes, then invert onto a serving plate. Brush with the remaining syrup and cool completely before wrapping airtight.

This cake can be made several days ahead and refrigerated, wrapped well. I like to glaze it with a Chocolate Cream Ganache before serving.