Cream of Yam and Spinach Soup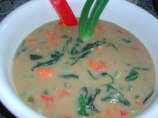 Photo by Kumquat the Cat's friend
Prep Time: 30 mins
Total Time: 55 mins
Servings: 8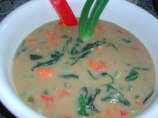 Photo by Kumquat the Cat's friend
About This Recipe
"Adapted from the Louisiana Sweet Potato commission, this recipe is packed with healthy ingredients. A cream soup with no cream, no butter; just flat out good for you. I used King Arthur's "white" whole wheat flour to pack in a bit more nutritional punch. My local Safeway is carrying this flour now. This colorful soup is very mild; if you want to kick it up with some heat, go right ahead. Mr. B does not like spicy; when he tried this soup he gave it two thumbs up. Note--I use bagged baby spinach and don't bother to remove the stems."
Ingredients
14.79 ml olive oil

236.59 ml chopped onion

118.29 ml chopped celery

1 red pepper, seeded and chopped

29.58 ml minced garlic

236.59 ml all-purpose flour

3 (1190.67 g) can vegetarian broth

709.77 ml fresh yams, large dice

1 (283.49 g) bag fresh spinach leaves, stemmed and coarsely chopped

473.18 ml skim milk

118.29 ml sliced green onion stems

salt and pepper
Directions
In a large heavy pot, heat olive oil to medium-high, and cook onion, celery, red bell pepper and garlic until the vegetables are tender, about 5-7 minutes.

Whisk in the flour and gradually add the broth, whisking until soup is blended.

Add the yams and bring to a boil, cover and reduce the heat to low, or a slow simmer. Cook approximately 20 minutes or until the potatoes are very tender.

Add the spinach, milk, green onions, salt and pepper (I didn't measure, but guesstimate that I used between 1/2 and 3/4 teaspoons salt).

Turn the heat back up to medium. Cook until spinach is wilted and soup well heated and thickened, about 5 minutes.

Hope you enjoy!