Banana-Chocolate Chip Cake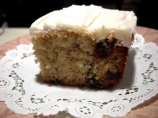 Photo by Divaconviva
Prep Time: 15 mins
Total Time: 1 hr
Servings: 15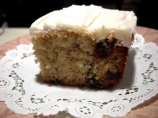 Photo by Divaconviva
About This Recipe
"This cake is so good it should be illegal! It's very easy to make, just throw all the ingredients into the mixing bowl and let the beaters do the work. I got this from Betty Crocker's Cookbook 1978, my husband's kitchen bible from his bachelor days."
Ingredients
2 1/3 cups all-purpose flour

1 1/3 cups sugar

1 1/4 cups bananas, fully ripe, mashed ( about 3 medium)

2/3 cup butter

2/3 cup buttermilk ( I use soured milk)

3 eggs

1 1/4 teaspoons baking powder

1 1/4 teaspoons baking soda

1 teaspoon salt

1 cup semi-sweet chocolate chips

VANILLA BUTTER FROSTING

3 cups powdered sugar

1/3 cup butter, Softened

1 1/2 teaspoons pure vanilla extract

2 -3 tablespoons milk or 2 -3 tablespoons half-and-half
Directions
Heat oven to 350 degrees. Grease and flour oblong pan, 9x13x2 inches.

Beat all ingredients, except chocolate chips, in large mixer bowl on low speed, scraping bowl constantly, 30 seconds. Beat on high speed, scraping bowl occasionally, 3 minutes.

Stir in chocolate chips by hand.

Pour batter into prepared pan.

Bake until toothpick or cake tester inserted in center comes out clean, approximately 45 minutes.

Cool cake completely and frost with Vanilla Butter Frosting.

To make VANILLA BUTTER FROSTING:.

Blend powdered sugar into butter.

Stir in vanilla and milk.

Beat until frosting is smooth and of spreading consistency.

Hint #1. For best results, be sure the bananas you use for cakes are fully ripened. If you use firm bananas, the cake will not have the fragrance or the flavor.

Hint #2. To sour milk: Add 1 tablespoon white vinegar or lemon juice to 1 cup of milk. For this recipe, use 2 teaspoons vinegar or lemon juice for 2/3 cup milk.

Hint #3. When it comes to homemade frosting, I usually increase the recipe by one-half; so in this case, I used 4 ½ cups powdered sugar, 7 ½ tablespoons butter, and 2 ¼ teaspoons vanilla (using the same measuring spoons, 1 ½ teaspoons first, and then ½ and ¼ teaspoons vanilla).