Easy Sticky Toffee, Apple and Cognac Pudding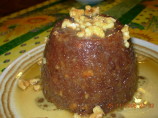 Photo by French Tart
Prep Time: 20 mins
Total Time: 1 hr 50 mins
Serves: 8, Yield: 1 Pudding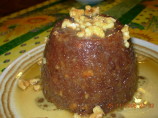 Photo by French Tart
About This Recipe
"A decadant and very easy "All-In-One" sticky toffee pudding - just put all the ingredients into your food processor and whizz it all up together! This is a lovely lighter version of the traditional & very rich sticky toffee pudding - but is still gooey & very sinful! If you cannot get hold of Golden Syrup, use Maple Syrup or Honey instead - it will be a different flavour but still very yummy! Turn out to serve & it is delicious with vanilla ice cream, creme fraiche or chantilly cream. This makes a great "Alternative Christmas Pudding" for those who are not keen on the Traditional Pud! Bring to the table and flambe with cognac!"
Ingredients
PUDDING

200 g stoned dates

100 g shelled walnuts or 100 g shelled pecans

2 dessert apples, peeled, cored & chopped

3 tablespoons golden syrup

4 tablespoons cognac

100 g butter, cut into cubes

2 eggs, beaten

140 g soft brown sugar

170 g self-raising flour

1 teaspoon bicarbonate of soda

TOFFEE SAUCE

180 g soft brown sugar

100 g butter

6 tablespoons double cream

50 g walnuts, roughly chopped or 50 g pecans
Directions
Heat oven to 160C or 320°F.

Whizz up the dates in a food processor until chopped up a little and then add the walnuts or pecans, apple, golden syrup & cognac. Pulse a few times until coarsely chopped & mixed together, but still chunky.

Add the butter, eggs & sugar & pulse a few times to combine.

Finally, add the flour & bicarbonate of soda & keep pulsing until everything comes together & is mixed well.

Butter a 1.5 litre pudding basin & tip in all the mixture.

Smooth and level the top & bake in the pre-heated oven for 1 hr 20 mins or 1 hr 30 mins or until a skewer inserted comes out almost clean.

While the pudding is baking, make the toffee sauce; tip the sugar into a saucepan and add the butter & the cream. Bring to a rapid boil & then simmer until the sugar is dissolved & the mixture has thickened & is caramel in colour.

To serve, turn out the pudding and place the walnuts or pecans over the top of the pudding & pour over the toffee sauce; place pudding under a grill and cook until the sauce is bubbling.

Serve with Ice Cream, Creme fraiche or Chantilly Cream.

FREEZER:.

Make the pudding ahead of time and freeze in the pudding container for up to 1 month. To reheat, defrost & cook in the microwave for 8-10 minutes on medium.Make the toffee sauce and serve as before.