Grilled Porterhouse Steak With Paprika-Parmesan Butter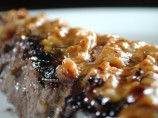 Photo by Chef floWer
Prep Time: 2 hrs 10 mins
Total Time: 2 hrs 35 mins
Servings: 4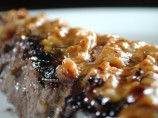 Photo by Chef floWer
About This Recipe
"**Needs to Marinate** I was excited to find this recipe online. In my younger days I worked at a restaurant that served a delicious parmesan butter with all of it's steaks. This is so close to that very recipe. Try the Paprika-Parmesan Butter with all of your favorites steaks."
Ingredients
1 (2 3/4 lb) porterhouse steaks, 2-3/4 to 3 inch thick

1/4 cup olive oil

7 large garlic cloves, minced

1 tablespoon fresh thyme, chopped

1 tablespoon salt

2 teaspoons ground black pepper

1 teaspoon fresh rosemary, chopped

Paprika-Parmesan Butter

3 tablespoons butter, room temperature

2 teaspoons grated parmesan cheese

1 anchovy fillet, drained, minced

1 teaspoon paprika

1/2 teaspoon Dijon mustard

1/2 teaspoon Worcestershire sauce

1/4 teaspoon ground black pepper

1/4 teaspoon hot pepper sauce
Directions
Mix all Paprika-Parmesan Butter ingredients in small bowl until blended.(Can be made 2 days ahead.) Use at room temperature.

Place steak in glass baking dish.

Whisk oil and next 5 ingredients in small bowl to blend. Pour half of marinade over steak. Turn steak over; pour remaining marinade over steak. Cover and chill at least 2 hours and up to 1 day, turning occasionally.

Prepare grill, (medium heat).

Remove steak from marinade; shake off excess.

Place steak on grill; cover grill.

Grill steak to desired doneness,(until instant-read thermometer inserted into center of steak registers 115 F to 120 F for rare,about 15 minutes per side,or 125 F to 130 F for medium-rare, about 18 minutes per side),occasionally moving steak to cooler part of rack if cooking too quickly.

Transfer steak to platter; cover to keep warm. Let stand 5 minutes.

Using sharp knife, cut meat away from bone. Cut each meat section into 1/3-inch-thick slices.

Spread Paprika-Parmesan Butter over top of slices and serve.