Yummy Peanut Butter Cookies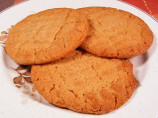 Photo by Lavender Lynn
Prep Time: 20 mins
Total Time: 30 mins
Yield: 36 cookies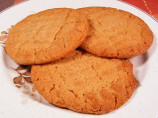 Photo by Lavender Lynn
About This Recipe
"Another favorite from Betty Crocker that I have made for at least 15-20 years now. ;) A great addition to any cookie tray or for a cookie exchange! Try the Hershey Kiss tip at the bottom too for a great crowd pleaser!"
Ingredients
1/2 cup granulated sugar

1/2 cup packed brown sugar

1/2 cup peanut butter ( I usually use Skippy creamy, but chunky for a change is great)

1/2 cup shortening

1/4 cup margarine (I use Imperial for baking usually) or 1/4 cup butter, softened ( I use Imperial for baking usually)

1 egg

1 1/4 cups all-purpose flour

3/4 teaspoon baking soda

1/2 teaspoon baking powder

1/4 teaspoon salt

2 tablespoons sugar ( for topping)
Directions
Place 2 tablespoons sugar in a small dish and set aside.

Combine sugars, peanut butter, shortening, margarine and egg in a large mixing bowl.

Stir remaining ingredients into mixture.

Cover and refrigerate for at least 3 hours.

Preheat oven to 375 degrees.

Roll dough into 1 1/4 inch balls.

Dip each ball in sugar on one side.

Place approximately 2-3 inches apart on an ungreased cookie sheet, sugar side up.

Lightly press a dinner fork flat across each ball twice to make a criss cross pattern.

Sprinkle flattened dough with light amount of sugar to "dust" the criss cross.

Bake 9 to 10 minutes, until cookies are light brown.

Allow cookies to cool for 2 minutes before removing from tray.

Enjoy! ;).

TIP- another idea is to press a Hershey's kiss into the middle of each ball prior to baking instead of flattening it with a fork for a "Peanut Butter Kiss". ;) Kids love these!