Meat(Less) Tomato Sauce - Sicilian Style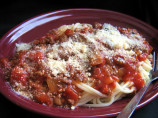 Photo by Annacia
Prep Time: 20 mins
Total Time: 1 hr 50 mins
Yield: 16 Cups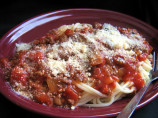 Photo by Annacia
About This Recipe
"This is my mom's sauce and it has taken me some time to perfect it to be as good as hers. You can use fresh tomatoes or use good quality canned tomatoes. If you don't want a meat sauce, then just omit it and fry the onions and garlic in olive oil. It's best to make this early in the day or even the day before you plan to use it to allow the flavors to mix."
Ingredients
3 (28 ounce) cans crushed tomatoes

1 1/4 lbs ground beef

2 onions, chopped

2 garlic cloves, minced

1 teaspoon salt

1 teaspoon sugar or 1 (1 g) packet Sweet 'n Low or 1 (1 g) packet Splenda sugar substitute

1 1/2 teaspoons dried basil or 4 -5 fresh basil leaves
Directions
Empty the tomatoes into a large saucepan and turn the heat to medium.

In the meantime, heat a heavy skillet over medium heat.

When hot, add the ground beef and stir it around until brown.

You do not need to add oil as the fat from the beef will suffice.

When the meat is cooked, remove with a slotted spoon, allowing excess oil to drip back into the skillet, and transfer the meat to the saucepan of tomatoes and stir.

Add the onions and garlic to the fat in the skillet and cook until the onion is tender.

Remove with a slotted spoon, again, allowing the excess oil to drip back into the skillet and stir into the tomatoes.

Stir in the salt, sugar and basil.

Bring sauce to a boil, cover, then turn down the heat to simmer for 1 1/2 hours, stirring occasionally to prevent sticking.

Turn off the heat and let the pot sit on the stove until you are ready to use it.

If you are planning to use it the next day, refrigerate when cooled.

Reheat as necessary or freeze for future use.