Candied Ginger Sweet Potatoes With Dried Cranberries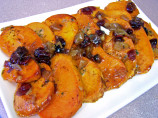 Photo by Rita~
Prep Time: 15 mins
Total Time: 55 mins
Servings: 4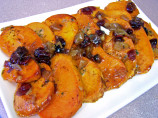 Photo by Rita~
About This Recipe
"You may get confused when eating this yummy side. Yes! It is a side not a dessert. The flavor of this is so yummy. You have the sweetness from the potatoes, brown sugar, dried cranberries and juice. Yet tanginess from the cranberries & juice. And a nice bite and sweetness from the Ginger. Real Comfort food!This recipe uses my optional Mixed-Herb Compound Butter for Veggies or Meat or your choice and Crystallized Ginger , Ginger Syrup & Ginger Sugar or store bought. Enjoy!"
Ingredients
2 tablespoons butter (try your favorite compound butter or Mixed-Herb Compound Butter for Veggies or Meat) or 2 tablespoons unsalted butter

1 lb sweet potatoes or 1 lb yam, sliced

1 ounce candied ginger, diced ( store bought or Recipe #102933)

2 tablespoons dried cranberries

1/2 cup pineapple juice

1 tablespoon brown sugar

1/2 teaspoon cinnamon

1/2 teaspoon salt
Directions
Preheat oven to 350 degrees.

In an oven proof 8x8 dish melt butter in dish in the oven.

Meanwhile mix the remaining ingredients together.

Place potatoes in a bowl and pour butter over give a toss.

Layer them in the same pan you should have 2 layers. Pour the mixture over and bake till tender about 40 minutes. Baste with juice mixture half way through.