Balsamico Roast Chicken and Potatoes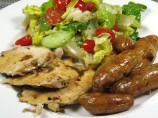 Photo by dianegrapegrower
Prep Time: 20 mins
Total Time: 1 hr 50 mins
Servings: 4-6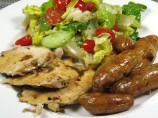 Photo by dianegrapegrower
About This Recipe
"This delicious pairing comes from "The Italian Country Table" by Lynne Caspar. It's become a family favorite in my house, as well as a dish we frequently use for entertaining. Don't let the ingredient list scare you - it's minced together and rubbed into the chicken. Roasting is largely unattended."
Ingredients
1/4 medium onion, minced

3 garlic cloves, minced

1/4 cup fresh basil, minced

1/2 teaspoon dried basil

1/4 teaspoon dried oregano

1/4 teaspoon dried marjoram

1 1/2 ounces pancetta, minced

5 tablespoons balsamic vinegar, divided

1 tablespoon extra virgin olive oil

salt and pepper

3 1/2 lbs chicken

6 medium yukon gold potatoes, scrubbed and cut into 2-inch chunks

1 cup dry white wine
Directions
Preheat oven to 400°F.

Mince onion, garlic, herbs, and pancetta together. Add 2 tsp balsamic vinegar, and oil.

Quarter the chicken. Flatten as much as possible. Stuff most of the herb mixture under the skin. Toss potatoes with remaining herb mixture.

Place the bird skin side up in large flat roasting pan. Scatter potatoes around it. Sprinkle everything with salt and pepper.

Roast 20 minutes, then pour in 1/2 cup wine. Roast another 70 minutes or so, until the thigh reaches about 175°F on an instant-read thermometer. Baste the potatoes and chicken frequently with the pan juices. Add more wine if the pan becomes dry.

If after an hour of roasting, the chicken isn't browning, raise the oven temp to 500°F for a few minutes to crisp the skin.

Let stand 5-10 minutes at room temperature Present on a warmed platter with the potatoes, sprinkling everything with the remaining balsamic vinegar.