Little Caesar's Crazy Sauce by Todd Wilbur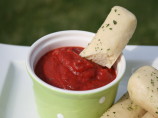 Photo by **Tinkerbell**
Prep Time: 20 mins
Total Time: 50 mins
Serves: 4-6, Yield: 1.5 cups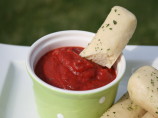 Photo by **Tinkerbell**
About This Recipe
"I love to eat at Little Caesar's and this is my favorite bread recipe to make at home. This recipe is from Todd Wilbur's book More Top Secret Recipes and www.TopSecretRecipes.com."
Ingredients
Crazy Sauce

1 (15 ounce) cans tomato puree

1/2 teaspoon salt

1/4 teaspoon pepper

1/4 teaspoon garlic powder

1/4 teaspoon dried basil

1/4 teaspoon dried marjoram

1/4 teaspoon dried oregano

1/4 teaspoon ground thyme
Directions
Combine all the ingredients in an uncovered saucepan over medium heat.

When the sauce begins to bubble, reduce the heat and simmer for 30-40 minutes, stirring often.

Remove sauce from heat;cool.

Store the Crazy Sauce in an air tight container in the refrigerator, it will keep 3-4 weeks.

Warm up when ready to use;serve hot.