Who-Knew???? Ground Beef and Chicken Crock Pot Chili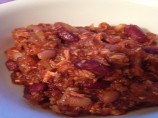 Photo by jkbrisson
Prep Time: 15 mins
Total Time: 6 hrs 15 mins
Servings: 6-8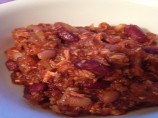 Photo by jkbrisson
About This Recipe
"Easy, delicious and yummity-yum crock pot chili..... After searching for interesting crock pot chili recipes, I finally just opened my fridge and cupboard and used what I had on hand... In the end, it was BEYOND delicious and really such a cinch to make."
Ingredients
2 (15 ounce) cans red kidney beans, drained

1 (28 ounce) cans tomatoes with juice

1 (6 ounce) cans tomato paste

1 1/4 lbs lean ground beef, browned and drained

2 boneless skinless chicken breasts, browned and chopped

2 medium onions, coarsely chopped

2 celery ribs, coarsely chopped

1 red bell pepper, coarsely chopped

2 garlic cloves, crushed

1 (14 ounce) cans baked pork and beans

1 tablespoon chili powder

1 tablespoon dried ancho chile powder

1/2 teaspoon allspice

1/2 teaspoon cinnamon

1 teaspoon pepper

1 teaspoon ground cumin

salt
Directions
Brown and drain the hamburger meat in a pan.

Do the same for the chicken.

Place into crock pot with remaining ingredients, stir well and cook on low for 8-10 hours or high for 4-6. (I used the high setting due to lack of time).

Enjoy with cornbread and an ice-cold Newcastle.