Strawberry Cream Angel Food Cake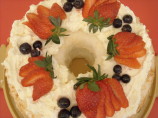 Photo by mums the word
Prep Time: 20 mins
Total Time: 20 mins
Servings: 8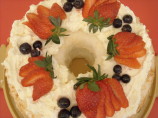 Photo by mums the word
About This Recipe
"A cooking instructor in my 9th grade home ec taught me how to make this, its very simple. I believe its best using a bunt pan, but not those ones with the designs. You can use a box of Angel food cake mix found usually in most stores or any favorite recipe you might have. Usually the only thing you have to add to Angel food Cake Mix is water, but it varies by brand. Included here is ONLY the recipe for the filling and directions on how to fill it. Feel free to substitute with any other fruit, like bananas or blueberries. I suggest looking up alton browns angel food cake recipe for some great tips for angel food cake. Bringing this to an event, but want to try it now? No problem! Save the insides you pull out of the cake and make yourself a trifle, alternating layers of cake, cream and berries in a large glass or small bowl. (You can also do this is disaster strikes with your angel food cake)"
Ingredients
1 angel food cake mix or 1 store bought angel food cake

1 pint heavy cream

1 (3 1/2 ounce) boxes vanilla pudding mix

10 large strawberries ( or more if desired)
Directions
Mix and put the angel food cake into the bunt pan and bake as directed.

Let the cake cool COMPLETELY.

In the meantime take your pint of heavy cream and mix it with the pudding mix in a small bowl. The mixture should become thick and creamy but still spreadable.

When the cake is completely cooled, remove it carefully from the pan.

Use a knife and cut the cake in half through the middle, leave the cake in two complete sections (note cut in half as in horizontally not as if you were splitting the cake into slices and cut it in half first).

Laying the cake with the insides facing up use your fingers to hollow out a ring for the filling on both pieces. make sure not to damage the edges of the cake for presentation purposes. Feel free to "sample" the cake seeing as these pieces you remove will not be needed.

At this point you can cut, wash and put the strawberries or bananas or whatever fruit desired into the cream or just lay the cream in the crevice you created on the bottom half of the cake putting the fruit on top. Don't be sparing--let the cream fill over the crevice because the top has been hollowed out also. I cut the strawberries into tiny pieces because I don't like getting large wedges of fruit in one bite, and if you need to make it stretch further, everyone gets some fruit in their piece.

Once you fill the mixture in, carefully place the top back on the cake. Feel free to use any remaining filling to help secure excess fruit to the top.