Asian-Style Grilled Tilapia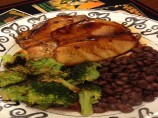 Photo by piranhabriana
Prep Time: 5 mins
Total Time: 35 mins
Servings: 4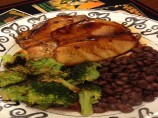 Photo by piranhabriana
About This Recipe
"I have to put this recipe somewhere before it gets thrown away!! It was in the paper as a "Quick Meal". I just love tilapia!! Feel free to add more garlic or ginger to this sauce....the more the merrier, right?"
Ingredients
1/4 cup soy sauce

2 tablespoons sugar

3 large garlic cloves, minced ( about a Tbs.)

1 lime, juice of ( 2 Tbs or so)

1 teaspoon fresh ginger, minced

1/4 teaspoon crushed red pepper flakes

1 lb tilapia fillet ( or other thin mild fish)
Directions
Combine the soy sauce, sugar, garlic, lime juice, ginger and red pepper flakes in a wide, shallow baking pan that will hold all of the fish in a single layer.

Stir briefly to dissolve the sugar.

Add the tilapia, then turn it over so that it's coated all over with the marinade.

Set aside for 20 min or so.

Heat the broiler to high, and move the oven rack to position closest to heat.

Slide the pan into the oven, and broil the fish for 5 minute Keep the oven door ajar so the broiler element stays lit.

Turn the pan around (back to front), and broil for 5 more minute.

If the juices in the pan appear to burn, add a little water to the dry spot to prevent burning.

The fish should be opaque and flaky.

Spoon the sauce over the fish when serving.