Crown Roast of Pork With Apple, Fig and Cherry Stuffing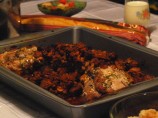 Photo by kaze_no_sennyo
Prep Time: 20 mins
Total Time: 2 hrs 50 mins
Servings: 16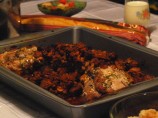 Photo by kaze_no_sennyo
About This Recipe
"This is all out Christmas Dinner. You'll get the ooo's and ahh's and who doesn't like pork and fruit combos? You might want to make extra stuffing to bake on the side if you have stuffing lovers at the table."
Ingredients
6 -7 lbs center-cut pork loin ( 16 ribs)

2 tablespoons garlic, minced

2 tablespoons fresh thyme, chopped

2 tablespoons olive oil

salt and pepper

2 granny smith apples

1 cup dried fig

1/2 cup dried cherries

1/2 cup almonds, slivered

1 tablespoon butter

1 cup applesauce

1/2 cup dark brown sugar

1 cup muscat wine, divided

3 cups herb seasoned stuffing mix

2 sprigs fresh rosemary
Directions
Preheat oven 425°F.

Rub the roast all over with garlic, thyme, olive oil, generously salt and pepper to taste. Sauté the apples, figs, cherries and almonds in butter, stirring constantly, for about 3 minutes.

Remove from heat and stir in applesauce, dark brown sugar, 1/2 cup wine and stuffing mix; spoon into center of roast.

Place rosemary sprigs on top of stuffing. Cover stuffing and exposed ends of ribs with aluminum foil.

Roast pork for 20 minutes, then reduce heat to 350°F and continue roasting until the internal temperature of the pork reaches 150°F, approximately 2 hours.

Transfer the pork to a platter and let stand for 15 minutes.