Southwestern Corn and Hominy Saute (Ww Core)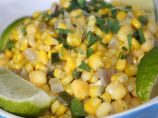 Photo by ~Nimz~
Prep Time: 10 mins
Total Time: 18 mins
Servings: 4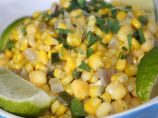 Photo by ~Nimz~
About This Recipe
"I am one of those people who likes hominy, particularly in Southwestern soups and stews. Came across this side dish in a new Weight Watchers cookbook and decided that it would soon be making an appearance on my dinner table."
Ingredients
2 medium poblano chiles

1 tablespoon vegetable oil

1 small red onion, chopped

2 garlic cloves, finely chopped

1/2 teaspoon cumin

1/2 teaspoon epazote or 1/2 teaspoon oregano

1 (15 ounce) cans hominy, drained

1 (10 ounce) bags frozen corn

salt

3 tablespoons chopped fresh cilantro

1 1/2 tablespoons lime juice, freshly squeezed

1 lime, cut into wedges
Directions
Remove the frozen corn from the freezer to begin defrosting.

To prepare the Poblano chiles, place them directly over gas flame on your stove. Allow the skin to char and blister before turning using long tongs (or well padded fingers). Once all sides are charred, about five minutes, toss the peppers in a resealable bag and close. Set aside about ten minutes to allow the heat to steam the chiles. Once cooled, peel and seed the peppers, and give them rough chop.

Heat the vegetable oil in a non-stick skillet over medium heat. Add the onions and cook for two or three minutes until the onions are tender. Stir in the garlic, cumin and epazote/oregano and continue to cook another 30 seconds.

Add in the corn and hominy, stirring occasionally, and cook for two minutes. Stir in the Poblanos and salt to taste. Cook an additional two or three minutes until the everything is heated through.

Remove from heat and mix in the cilantro and lime juice.

Serve with lime wedges.