Blueberry Coconut Coffee Cake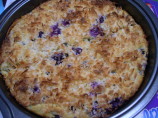 Photo by luvinlif2k
Prep Time: 10 mins
Total Time: 35 mins
Serves: 18, Yield: 2 cakes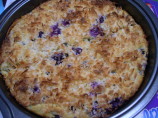 Photo by luvinlif2k
About This Recipe
"Adapted from Quick Cooking. I tried this delicious recipe and wrote in capital letters across the page "Excellent!" I rediscovered this yummy recipe again today as I was digging through my recipe box searching for fall favorites. The recipe originally called for shortening, but I prefer the rich flavor or real unsalted butter. Since this recipe makes 2 cakes, you can leave the coconut off the second if you want one plain. I often freeze the second cake after baking."
Ingredients
2 cups all-purpose flour

1 cup granulated sugar

1 tablespoon baking powder

1/4 teaspoon salt

1/2 cup unsalted butter

2 large eggs

1 cup milk ( I used skim)

2 cups fresh blueberries or 2 cups frozen blueberries, unthawed

1 1/3 cups shredded coconut
Directions
Combine flour, sugar, baking powder, salt.

Using a pastry blender, cut in butter until mixture is crumbly.

In another bowl, whisk together eggs and milk, then add to the flour mixture, stirring just enough to moisten the ingredients (overmixing will make a tough cake).

Gently fold in the blueberries.

Pour batter into two greased round 9" baking pans.

Sprinkle evenly with coconut.

Bake in a preheated 375 F oven for about 25 minutes, or until a toothpick tests clean when poked near the center of cake.

Serve warm.