Pumpkin Cheesecake Topped Chocolate Bundt Cake W. Dulce De Leche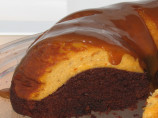 Photo by Claire #3
Prep Time: 15 mins
Total Time: 1 hr 15 mins
Serves: 12, Yield: 1 cake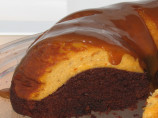 Photo by Claire #3
About This Recipe
"This is a recipe I made up, so try at your own risk ;). Just kidding. It actually works. I've tested it twice and so have a few friends. This cake gets moister the longer it sits, so it's a good make ahead if you like really moist cakes."
Ingredients
Pumpkin Cheesecake Topping

2 (8 ounce) packages cream cheese, softened

1/2 cup granulated sugar

1/3 cup light brown sugar

2 eggs

1 1/4 cups canned pumpkin

1 1/2 tablespoons cornstarch

2 teaspoons vanilla extract

1 teaspoon pumpkin pie spice ( or 1/2 tsp cinnamon, 1/4 teaspoon ginger, 1/8 teaspoon cloves, 1/2 teaspoon nutmeg)

Chocolate Cake

6 tablespoons natural unsweetened cocoa powder ( not Dutch processed)

3 ounces semisweet chocolate, chopped or 1/2 cup semi-sweet chocolate chips

6 tablespoons very hot brewed coffee

6 tablespoons sour cream

3/4 cup all-purpose flour, plus

2 tablespoons all-purpose flour

1/2 teaspoon salt

1/2 teaspoon baking soda

7 tablespoons unsalted butter, room temp

1 cup light brown sugar, packed

2 teaspoons vanilla

2 eggs, room temperature

1/3 cup mini chocolate chip
Directions
Preheat oven to 350 degrees F. Spray a 12 cup bundt pan with flour-added cooking spray.

In a small mixing bowl, beat softened cream cheese and both sugars until smooth. Thoroughly stir (do not beat) in eggs, pumpkin, cornstarch, vanilla and pumpkin pie spice or spice combo. Pour into bundt pan and bake for 15 minutes.

While pumpkin mixture bakes, combine cocoa and chocolate in a small saucepan; pour hot coffee over chocolate and whisk until smooth – if coffee is not hot enough to melt chocolate, turn heat to medium and heat just enough so that chocolate melts; Remove from heat (if using) and whisk in sour cream.

In a second bowl, whisk together flour, salt, and baking soda. Using electric mixer, beat butter, brown sugar, and vanilla on medium-high speed until pale and fluffy, about 3 minutes. Add eggs and continue beating for another minute.

By hand, stir 1/3 of the flour mixture into batter. Add half of the chocolate/sour cream mixture and stir until incorporated. Scrape bowl and add remaining flour mixture and all of remaining chocolate mixture. Stir in chocolate mini chips.

Remove bundt cake pan from oven and quickly pour chocolate mixture over pumpkin. Return to oven and bake for 42 minutes or until wooden skewer inserted into center comes out with few crumbs attached.

Cool in pan 30 minutes, then invert cake onto parchment paper or cake plate. Let cool at room temperature for 1 hour, then transfer to refrigerator to chill.

Before serving, drizzle with dulce de leche or caramel sauce.

Store cake in refrigerator.