Korean Gogi Bokum (Deep Fried Beef Slices)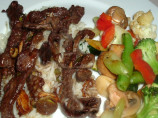 Photo by Bergy
Prep Time: 15 mins
Total Time: 25 mins
Servings: 3-4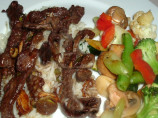 Photo by Bergy
About This Recipe
"This beef is to be served with Bulgogi dipping sauce Korean Yangnyum Kanjang (Bulgogi Sauce) Very tasty delicious dish. You do not have to deep fry the beef - I stir fried it in 2 tbsp Olive oil. I also twinned a vegetarian version while I cooked the regular beef. I used Meatless Beef tenders and followed the recipe just as if it were meat.(see pictures)"
Ingredients
1 lb lean rump steak or 1 lb filet of beef

1 green onion, finely chopped

1 tablespoon leek, finely chopped

1 garlic clove, finely chopped

1/2 teaspoon sugar

3 tablespoons light soy sauce

2 teaspoons sesame oil

1/4 teaspoon chili sauce ( or more)

1/2 cup peanut oil
Directions
Cut the beef as you would for stir fry, then pound each piece so it is very thin.

Arrange beef single layer in a dish and sprinkle over it the green onion, leek & garlic.

Mix the sugar, soy sauce, sesame oil & chili sauce together.

Spoon over the beef.

Marinate for 2 hours or more in the refrigerator.

Heat the peanut oil in a wok until it is very hot.

Fry each piece of beef for a few seconds only.

Drain on paper towel.

Serve at once over rice with Bulgogi sauce.