Pork and Broccoli Stir-Fry II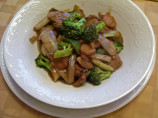 Photo by Sage
Prep Time: 20 mins
Total Time: 30 mins
Servings: 3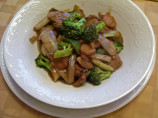 Photo by Sage
About This Recipe
"Stir fry's are so good and it's so easy to work a lot of veggies into a meal with them. I had some yellow bell pepper left from something else, that was chopped into this and it went perfectly."
Ingredients
1/2 lb lean boneless pork

3/4 cup reduced-sodium chicken broth

1 tablespoon cornstarch

2 tablespoons reduced sodium soy sauce

2 tablespoons dry sherry or 2 tablespoons water

1/8 teaspoon crushed red pepper flakes

nonstick spray coating

1 medium onion, sliced

1 (10 ounce) packages frozen chopped broccoli, thawed and well drained

1 garlic clove, minced

1/2 teaspoon grated fresh ginger

1 -2 teaspoon cooking oil

1/2 cup sliced water chestnuts

1 1/2 cups hot cooked brown rice
Directions
Partially freeze meat. Thinly slice across the grain into bite-size strips.

Meanwhile, for sauce, stir together chicken broth, cornstarch, soy sauce, dry sherry, and red pepper. Set aside.

Spray a wok or large skillet with nonstick spray coating.

Add onion, broccoli, garlic, and ginger and stir-fry for 3 minutes or until vegetables are crisp-tender.

Remove vegetable mixture from wok.

Add oil to hot wok. Add pork and stir-fry for 2 to 3 minutes or until done. Push pork from center of wok.

Stir sauce and add to the center of wok. Cook and stir until thickened and bubbly.

Return vegetables to wok.

Add water chestnuts and stir all ingredients together to coat with sauce.

Cook and stir for 1 to 2 minutes more or until heated through.