Dreamy Low-Fat Fettuccine Alfredo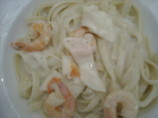 Photo by mums the word
Prep Time: 10 mins
Total Time: 20 mins
Servings: 4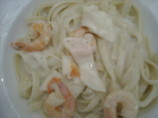 Photo by mums the word
About This Recipe
"It's a shame that alfredo is, for most people an occasional indulgence. Now, with this recipe cutting gobs of fat and cheese, it makes a great candidate for weeknight cooking. You'll be surprised that the trick is using a butter and flour roux to provide the same mouth feel as thickened heavy cream. To help speed up this recipe, prepare the sauce while bringing the water to a boil."
Ingredients
1 teaspoon unsalted butter

2 teaspoons all-purpose flour

3/4 cup whole milk

1/4 cup half-and-half

1 garlic clove, peeled and lightly crushed

1/2 teaspoon black pepper

1 pinch nutmeg

1 cup grated parmesan cheese

9 ounces fettuccine pasta, fresh is best
Directions
Bring 4 quarts of water to a boil in a large pot over high heat. I sometimes use a ladle, fill each of four serving bowls with about 1/2 boiling water and set aside.

Meanwhile, in a large saucepan, heat the butter over medium heat until foaming. Whisk in the flour until mixture is smooth and golden, 1 to 2 minutes. Whisk in the milk, half-and-half, garlic, 1/2 tsp salt, pepper and nutmeg. Bring to a simmer.

Reduce heat to medium-low and simmer until sauce is slightly thickened, 1 to 2 minutes. Discard garlic, stir in Parmesan and remove from heat.

Stir pasta and remaining salt into the boiling water and cook, stirring constantly, until al dente, about 2 to 3 minutes.

Reserve 1 cup pasta cooking water, then drain pasta.

Return sauce to low heat, add 1/3 cup pasta water and the cooked pasta. Toss until evenly coated. Cook until sauce has thickened slightly, about 1 minute. Add more water as needed to thin sauce to desired consistency and adjust seasonings.

Working quickly, empty the water from the warmed bowls and fill with pasta. Serve immediately.