Chicken Sate With Peanut Sauce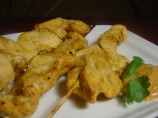 Photo by Sharlene~W
Prep Time: 30 mins
Total Time: 42 mins
Servings: 4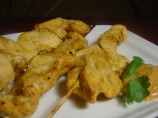 Photo by Sharlene~W
About This Recipe
"It took me a while to get around to trying this recipe I clipped from Cooking Light, but it is a winner! I will be making again and again. Despite the long list of ingredients, it actually goes together fairly quickly. Both the sauce and the marinade are only mildly spicy."
Ingredients
Sate Marinade

1/2 cup chopped shallot ( about 4)

2 tablespoons dark brown sugar

1 tablespoon minced fresh ginger

1 tablespoon sambal oelek ( chile paste with garlic)

1 tablespoon low sodium soy sauce

2 teaspoons coriander seeds

2 teaspoons canola oil

1 teaspoon fish sauce

1/2 teaspoon turmeric

1/2 teaspoon black peppercorns

1 dash of freshly ground nutmeg

4 garlic cloves

2 whole cloves

1 1/2 lbs chicken breast tenders

Peanut Sauce

1/2 cup reduced-fat creamy peanut butter

1/3 cup water

3 tablespoons lime juice

1 tablespoon low sodium soy sauce

2 teaspoons dark brown sugar

1 teaspoon hot paprika

1 teaspoon hot chili sauce ( such as Huy Fong Sriracha)
Directions
Preheat broiler.

To prepare sate, place first 13 ingredients in a food processor and process until smooth. Place shallot mixture and chicken in a large zip-top plastic bag. Seal and marinate in refrigerator 10 minutes.

To prepare peanut sauce, combine peanut butter with next 6 ingredients (through Sriracha) in a medium bowl; stir well with a whisk. (I found it was much easier to mix together after I microwaved for about 45 seconds to soften the peanut butter a little).

Remove chicken from bag and discard marinade. Thread chicken on 8 (12-inch) wooden skewers. Place skewers on the rack of a broiler or roasting pan coated with cooking spray. Broil 12 minutes or until done, turning once or twice as needed.

Serve with peanut sauce.